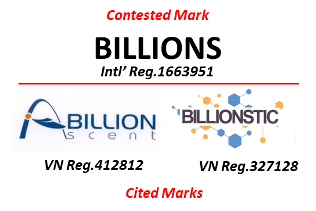 The IP Vietnam has sent the Notification of Provisional Refusal of Protection No. 2022/20 NPQ33 dated May 31, 2023 to WIPO, notifying that the International Registration of Mark (IRN) 1663951-BILLIONS designating Vietnam ("applied-for mark") for protection of goods in Class 01 under the name of LB Group Co., Ltd., headquartered at Zhongzhan District, Jiaozuo City, Henan Province (CN) is provisionally denied protection on the grounds of violating Article 74.2(e) of the IP Law, namely being confusingly similar to the earlier National Trademark Registrations No.412812-"Ascent BILLION, figure" and 327128-"BILLIONSTIC, figure" for protection of products in Class 01, currently in effect in Vietnam ("cited marks").
In responding to the IP Vietnam's Notification above, on behalf of and authorized by LB Group Co., Ltd., Pham & Associates counter-argued that the applied-for mark not confusingly similar to the prior cited trademarks as follows:
(i) The owner of mark BILLIONS is conducting procedures to limit the list of goods of Class 01protected in Vietnam of IRN 116639-BILLIONS; When this limitation of list of goods is completed, the mark in question will not be confusingly similar to the cited mark "BILLIONSTIC, figure" because the products covered by these marks are different in respect of their nature, target customers and distribution channels.
(ii) "BILLIONS" is not confusingly similar to the "Ascent BILLION, figure" because they are different in appearance/structure, pronunciation and visual impression;
(iii) Products "chemical substances, preparations and materials for the manufacture of pigments, colorants, paints, coatings, protective coatings, surface coatings, fillers, industrial ceramics... " in Class 01 of the applied-for trademark "BILLIONS" are not ordinary products but specialized ones as inputs for chemical, manufacturing companies... with customers being professionals, so it is unlikely that they confuse these marks with each other;
(iv) It should be added that the two cited marks "Ascent BILLION, figure" and "BILLIONSTIC, figure" are having been issued under the names of different owners but both protect identical and/or similar products in Class 01. This shows that they exist in parallel and the consumers are able to distinguish the source of the products. Therefore, refusing to register "BILLIONS" is unsatisfactory.
Based on this counter-arguments, the applicant requested the IP Vietnam to withdraw its Provisional Refusal of Protection of the trademark "BILLIONS".
The case is being reviewed by the IP Vietnam.