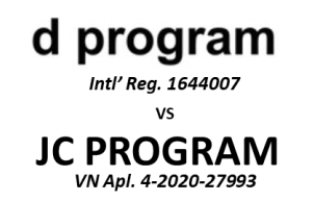 Shiseido Company, Limited, headquartered at 5-5, Ginza 7-chome, Chuo-ku, Tokyo 104-0061 (JP), owner of the International Registration of Mark (IR) No.1644007 "d program", which is designated to Vietnam on November 8, 2021, for protection of products/services in Class 05, 09 and 42 has been provisionally refused in part by the IP Vietnam on grounds of: (a) is identical and confusingly similar to the prior national trademark application No.4-2020-279903 "JC PROGRAM" for protection of products in Class 05; (b) is indistinctive as it contains a character or numeral (as provided in Article 74.2.a, IP Law) and is descriptive of the products bearing the mark (as provided in Article 74.2.c, IP Law), and (c) "design services, not for advertising purposes" of Class 42 for which the trademark is applied for is too broad.
In response to the IP Vietnam's Notice, the authorized representative of Shiseido Company, Limited said that the grounds raised by the IP Vietnam to refuse the applied-for mark "d program" were not satisfactory, namely:
(i) the sign "d program" is applied for registration in its entirety, no claim is made to the exclusive right to use "d" and "program" apart from the mark as shown. The practice of trademark examination at the IP Vietnam showed that the combination of a letter (consonant) with another letter/or component that describes a product/service is considered distinctive, therefore the IP Vietnam has accepted to register the trademark "PIXEL C"; "d ACCOUNT"; "Phương án B"…;
(ii) "d program" and "JC PROGRAM" differ in their visual impression, pronunciation, meaning and overall impression. In addition, products bearing these marks are pharmaceuticals and specialty products, so consumers are careful when buying or buying those products according to the prescription/direction of medical professionals, so there is no possibility of causing confusion; and
(iii) The owner of mark "d program" has been working with WIPO Office to make amendment to/clarification of the list of services in Group 42 designating Vietnam, whereby "design services, not for advertising" is changed to "design services, other than for advertisements, namely industrial design and packaging design", so it cannot be considered too broad.
From the above points, the applicant requests the IP Vietnam to withdraw the notice of refusal to protect the Inernational Registration of mark "d program" in Vietnam.
The case is being handled by the IP Vietnam./.