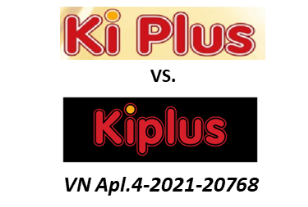 Namyang Dairy Products Co.,Ltd - a Korean company specializing in dairy products established in 1964, headquartered at 240 Dosan-daero, Gangnam-gu, Seoul, Republic of Korea - has petitioned with the IP Vietnam to oppose national (VN) applied-for mark application No. 4-2021-20768 "Kiplus, figure" filed on May 24, 2021, (see figure below) for protection of products "Milk rich in albumin; milk; beverages made from milk or main ingredient is milk; milk product; milk substitutes; yogurt" in Class 29 on the grounds that this applied-for mark is confusingly similar to the already existed trademark "KiPlus" of Namyang Dairy Products Co.,Ltd.
The opposer has presented evidence that its dairy products account for 70% of the domestic market share in Korea and have been exported to many countries including Vietnam. Especially, its KiPlus milk powder KI-180 is patented and the KiPlus height increasing milk powder has been imported into Vietnam and trusted and used by Vietnamese consumers for years. Therefore, the use of the applied-for mark "Kiplus, figure" may cause consumers to be confused about the origin of the products bearing the mark, thereby showing that the applied-for mark is filed with malicious intent, in order to take advantage of the reputation of the well-known KiPlus trademark that has already existed.
The case is being handled by the IP Vietnam./.