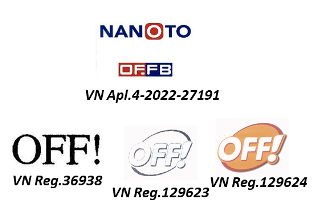 On behalf of and authorized by the mark owner, S.C. JOHNSON & SON, INC., addressed at 1525 Howe Street, Racine, Wisconsin 53403-2236, U.S.A, Pham & Associates has petitioned with the IP Vietnam to oppose a part of trademark application 4-2022-27191 "NAN TO OFFB, figure" sought for registration of goods/products in Class 05 on the ground that the applied-for mark is confusingly similar to the already existing registered marks "OFF!", "OFF!, figure" (the cited marks) of the opposer.
Specifically, the applied-for mark "NAN TO OFFB, figure", a composite mark where words combined with designs, consists of the component "NAN TO" and "OFFB" in which the component "OFFB" is confusingly similar to the cited mark "OFF!" in respect of their appearance, pronunciation and visual impression and at the same time a part of the list of products of the applied-for mark, namely parasiticides [carbolineum]; dry fungicides in Class 05, is identical/similar to the products covered by the registered cited marks.
The case is being reviewed by the IP Vietnam./.