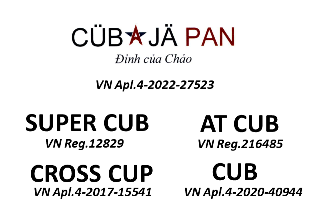 Honda Motor Co.,Ltd., the owner of protected trademarks No. 12829 "SUPER CUB", No. 216485 "AT CUB" and Trademark Applications No. 4-2017-15541 " CROSS CUB" and No. 4-2020-40944 "CUB" has petitioned with the IP Vietnam to oppose the applied-for mark No.4-2022-27523 "CÜB JÄPAN, Đỉnh của Chảo, figure" sought for registration of services "Buying, selling, exporting, importing and selling cast iron pans, non-stick pans, electric pots, kitchen tools..." in Class 35 on the ground of confusing similarity to the Honda Motor's earlier registered trademarks, misleading and/or deceiving consumers about the origin of products bearing the mark. Specifically:
(i) "CÜB JÄPAN, Đỉnh của Chảo, figure" is a combined figure – word sign in which their components, namely the star image, the word element "JAPAN" [name of country] and the word "Đỉnh của Chảo" [meaning in Vietnamese is "Top of the Pan", a statement of praise] are non-distinctive pursuant to the trademark examination regulations; the dominant word element "CUB" which is distinctive is identical with the word "CUB" which is also the dominant component of the earlier cited marks;
(ii) "CÜB JÄPAN, Đỉnh của Chảo, figure" is similar to the earlier cited trademark "CUB" and other related marks which contain the word element "CUB" in respect of their appearance, pronunciation and visual impression;
(iii) in addition, the word "JAPAN" in the objected sign is translated into Vietnamese as Japanese, so the goods bearing the mark mislead consumers into thinking that they are of Japanese origin.
The case is being reviewed by the IP Vietnam./.