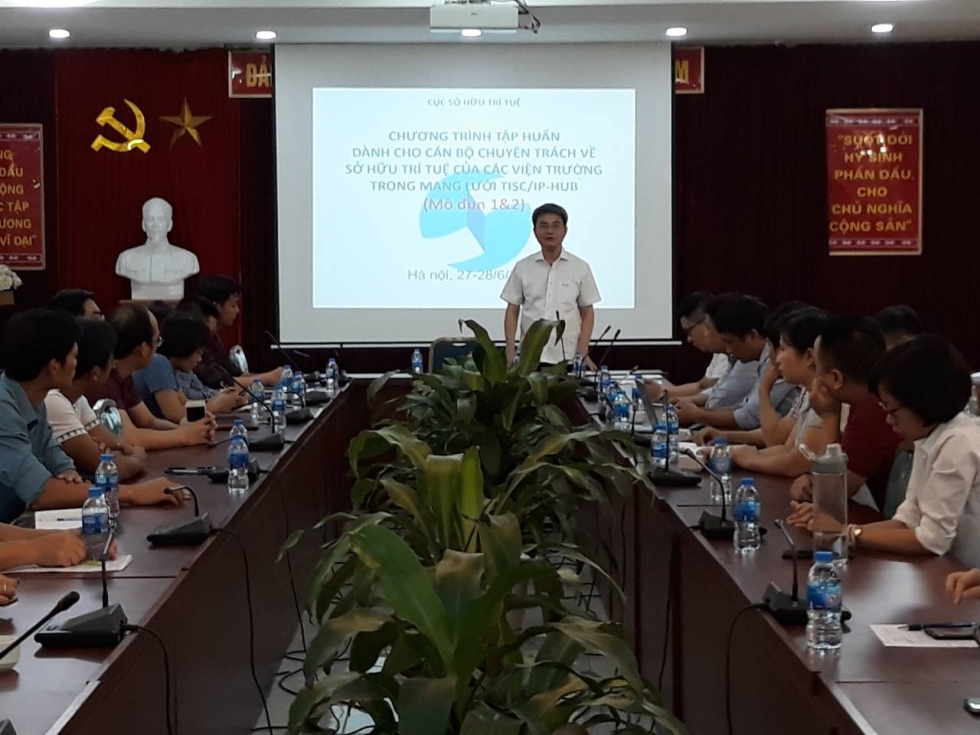 On June 27, 2019 in Hanoi the National Office of Intellectual Property (NOIP) held a training course for officials in charge of intellectual property under the Network of Technology and Innovation Support Centers and Intellectual Property Centers (TISC & IP-HUB) in universities, research institutes and businesses. The training course was attended by representatives from more than 20 research institutes, universities and a number of businesses in the Northern region.
(Photo: Mr. Dinh Huu Phi, Director of NOIP gave the opening speech to the training course)
The network of TISC & IP-HUB under the initiative of the World Intellectual Property Organization (WIPO) was established to aim at (i) supporting an access to high-quality science and technology information and related services, (ii) exploiting the potential innovations and establishing, protecting and managing intellectual property rights, (iii) increasing the number of applications for industrial property registration in general and for inventions in particular of the Vietnamese, especially from universities, research institutes and enterprises. Vietnam TISC network currently has 35 members who are research institutes, universities in all three regions.
In addition to the TISC Network, the NOIP also co-chaired the IP-HUB Network under the spindle and spokes model of WIPO's Intellectual Property (EIE) Project. Among the members of Vietnam's TISC Network, WIPO has interviewed to select 12 members to participate in the IP-HUB Network. While the goal of the TISC Network is to focus on exploiting patent information, promoting patent registration, the goal of the IP-HUB Network is to equip its members with knowlegdge and skills of thechnology transfer andcommercialization of intellectual property.
The course programme includes the following modules:
Module 1. Overview of Intellectual Property Objects and Patent Prosecution
Module 2. State of the art search and filing patent application
Module 3. Skills of patent claims drafting
Module 4. Skills of patent description drafting (basic)
Module 5. State of the art search and drafting a patent description in the field of mechanics and electronics
Module 6. Pursuing patent applications (substantive examination)
Module 7. State of the art search and drafting a patent description in the field of chemistry and pharmacy
Module 8. Pursuing patent applications (substantive examination)
Module 9. Developing IP activities in institutes/universities through TISC and IP-HUB networks
Module 10. Technology transfer and IP rights commercialization in institutes /universities