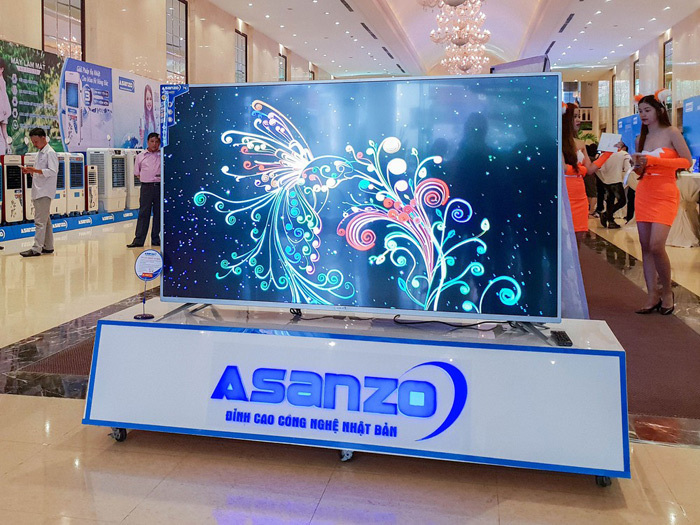 Asanzo JSc. (Asanzo) was established at the end of 2013 with an initial factory worth US $20 million built in Ho Chi Minh City. From a business with a small charter capital initially, Asanzo has risen to become a billion empire in the Vietnamese electronics industry.
From a TV production enterprise, after 5 years, Asanzo became a corporation with more than 70 electronic product lines, 7 factories, more than 2,000 employees, 15,000 points of sale and 1,000 warranty stations nationwide.
In 2015 Asanzo's revenue reached VND 1,200 billion, in 2016 reached VND 2,500 billion with 500,000 television sets consumed. By 2017, Asanzo has raised revenue to VND 4,600 billion. In 2018, Asanzo achieved revenue of VND 6,250 billion with more than 4 million products of all types sold.
Recently, Asanzo was caught up in the suspicion of importing Chinese goods and then tore off the "Made in China" label, then labeled "Made in Vietnam". The case has quickly attracted great attention from the public, because many of them have owned Asanzo's products because they believe in the "Made in Vietnam - the peak of Japanese Technology" label, that is often used to advertise its products.
MOIP Minister Tran Tuan Anh has requested relevant Departments, Institutes such as: Import and Export Department, Industry Department, Department of Science and Technology, Department of Domestic Market, General Department of Market Management ... conduct the investigation of the case and review of the state management and responsibilities assigned to them in this case. Since then, there are specific measures to ensure consumers' rights and interests, while ensuring a healthy production and business environment.
In the evening of June 24, 2019 the Prime Minister also asked the Ministry of Finance to assume the prime responsibility and coordinate with the Ministry of Public Security, the Ministry of Industry and Trade and relevant agencies to promptly check and verify press information regarding Asanzo Electronics JSc imported products manufactured in other countries labeled with C/O Vietnam. The Prime Minister asked the Ministry of Finance and the Ministry of Industry and Trade to urgently carry out the above tasks and report to him before July 30, 2019.