Innovators around the world filed 3.17 million patent applications in 2017, representing an eighth consecutive year of growth. Trademark filing activity amounted to 12.39 million, up 26.8% and representing the third consecutive year of double-digit growth. Worldwide industrial design filing activity exceeded 1.24 million, while applications for utility models totaled 1.76 million.
Asia has strengthened its position as the region with the most IP filing activity
Combined, IP offices in Asia received the highest numbers of applications for patents, utility models, trademarks and industrial designs, including 65.1% of all patent applications worldwide. Asia has seen an increase in its share of all applications filed worldwide for these four IP rights over the last decade.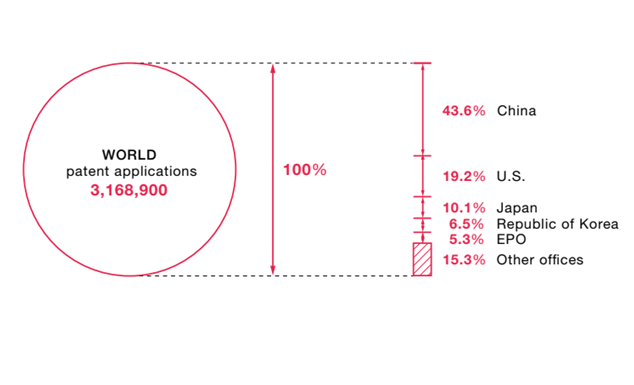 Note that North American offces do not offer utility model registration and are therefore not included in the chart for that IP right.
There were around 43.2 million active trademark registrations and almost 14 million patents in force in 2017.
There were 13.72 million patents in force worldwide in 2017, of which around 2.98 million were in force in the United States of America (U.S.), 2.1 million in China and 2 million in Japan. Of the 43.23 million active trademark registrations worldwide, 14.9 million were in China alone, followed by 2.2 million in the U.S. and 1.9 million in Japan. The total number of industrial designs in force worldwide grew by 5% to reach 3.75 million. While China accounted for 39% of the world total of industrial designs in force – under half – it accounted for nearly all of the utility models in force (92%).
The top five offices accounted for around 85% of the world total
Not only did the top five IP offices receive around 85% of the 3.17 million patent applications filed worldwide in 2017, a considerable share (43.6%) was filed in China alone, primarily by Chinese residents. The next largest shares went to the offices of the U.S., Japan, the Republic of Korea and the European Patent Offce (EPO).
China's office received a record total of 1.38 million patent applications in 2017, more than double the number of applications received by that of the U.S. (606,956). The office of Japan ranked third with 318,479 applications, followed by the offce of the Republic of Korea (204,775) and the EPO (166,585). Among the top 10 offices, those of India (+3.4%) and the EPO (+4.5%) saw a strong growth in filings in 2017.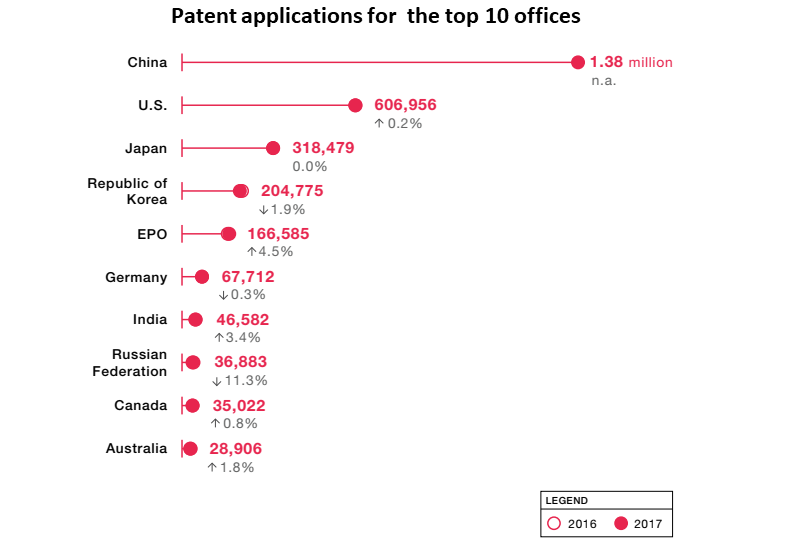 Analyzing patents by technology shows each country's areas of strength or specialization. For example, applicants from China and the Republic of Korea filed most intensively in the felds of electrical machinery and computer technology, Germany in transport, Japan in electrical machinery, and the U.S. in computer technology.
Around 243,500 PCT applications were filed in 2017, up 4.5% on 2016, representing an eighth consecutive year of growth. China, with 48,900 PCT applications, became the second largest source of PCT applications, closing in on long-term leader – the U.S. (56,680). Close behind was Japan (48,206), ranked third.
Two Shenzhen, China-based telecoms companies – Huawei Technologies (4,024 published PCT applications) and ZTE Corporation (2,965) – occupied the top two spots for PCT applications. They were followed by Intel Corporation of the U.S. (2,637), Mitsubishi Electric Corporation of Japan (2,521) and Qualcomm Incorporated of the U.S. (2,163). Among the top 10 applicants, six filed mainly in digital communications.
A utility model is a special form of patent right which has less stringent requirements than a patent, but gives a shorter term of protection. Utility models are not available in all jurisdictions. Of the 1.76 million applications filed globally in 2017, the IP offce of China received around 1.69 million – 95.8% of the world total – followed by the IP offces of Germany (13,301), the Russian Federation (10,643) and Ukraine (9,108).
Utility model filings grew markedly in the middle-income countries of Kazakhstan and the Philippines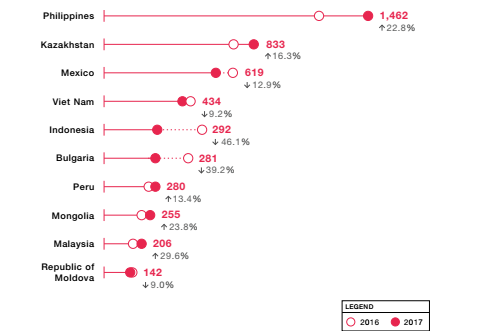 Source: WIPO Statistics Database, September 2018.