On August 22, 2019, the Prime Minister signed Decision No.1068/QD-TTg approving the Intellectual Property Strategy until 2030.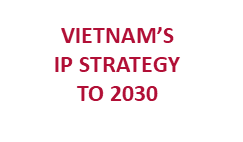 The Intellectual Property Strategy (the Strategy in short) was developed by the Ministry of Science and Technology, in collaboration with the relevant ministries and branches (Culture, Sports and Tourism, Agriculture and Rural Development, Industry and Trade, Health, Finance, Public Security, Information and Communications, Education and Training, etc.) and the technical assistance of the World Intellectual Property Organization (WIPO). This is the first time Vietnam has issued a national strategy on IP. The Strategy clearly identifies IP as an integral part of the nation's strategies and policies on socio-economic and cultural development and the active involvement of all actors in society, in which research institutes, universities, creative individuals, especially enterprises play a leading role in the creation and exploitation of IP.
The Strategy consists of three parts: Guiding principles, Objectives, Tasks and Solutions. The strategy also identifies a number of projects and tasks that are given priority in the implementation for the period to 2025 - this is one of the tasks that directly affect the effectiveness of IP activities in all three areas: copyright and related rights, industrial property rights and rights to plant varieties in coming years. The content components of the Strategy are built according to the cycle of IP activities, including the stages of creation, prosecution, protection and exploitation of IP rights.
The Strategy sets out 5 group targets to strive to achieve, namely:
By 2030, Vietnam is among the leading ASEAN countries in terms of creativity, protection and exploitation of IP rights.

The establishment of industrial property rights and rights to plant varieties ensures fast, transparent, fair and timely response to the requirements of businesses and society.

The enforcement of IP law has been significantly improved, the infringement of IP rights has been significantly reduced.

New IP assets of Vietnamese individuals and organizations increased in both quantity and quality, dramatically improving Vietnam's IP indicators in the global innovation index.
For these targets, quantitative indicators on a number of applications filed and protection titles grated/registered that are given to Vietnamese individuals/organizations are clearly defined, for instance, an annual increase of the number of applications filed and patents/registrations granted regarding inventions, industrial designs, trademarks and plant variety will be 16-18%; 6-8%; 8-10% and 12-14% accordingly. These quantitative indicators could affect Vietnam's ranking in the Global Innovation Indexes (GII) and will also be one of the criteria indicating the quality and performance of the national IP system.
Regarding effective use and exploitation of IP rights, it's expected that 8-10% of patented inventions are exploited commercially; at least 1-2 plant varieties are patented and exploited abroad; the turnover by 2030 of copyright & related rights-based industries contributes about 7% of GDP and several IP intensive industries are developed etc.
For achieving the above said goals, the Strategy sets out nine task groups and solutions that need to be implemented, including: (i) Improving policies and laws on IP; (ii) Increasing the effectiveness and efficiency of state management of IP; (iii) Strengthening and improving the effectiveness of IP rights enforcement; (iv) Promoting IP creation activities; (v) Encouraging and improving the efficiency of IP asset exploitation; (vi) Developing IP- support activities; (vii) Strengthening human resources development for IP activities; (viii) Forming a culture of IP in society and (ix) Actively, proactively cooperating and making international integration on IP./.