On the morning of August 24, 2019 at the Au Co Art Center in Hanoi took place the Vietnam Well-known Trademark - Competitive Brand Awarding Ceremony 2019 within the framework of the "Well-known Trademark - Competitive Brand Selecting Program 2019"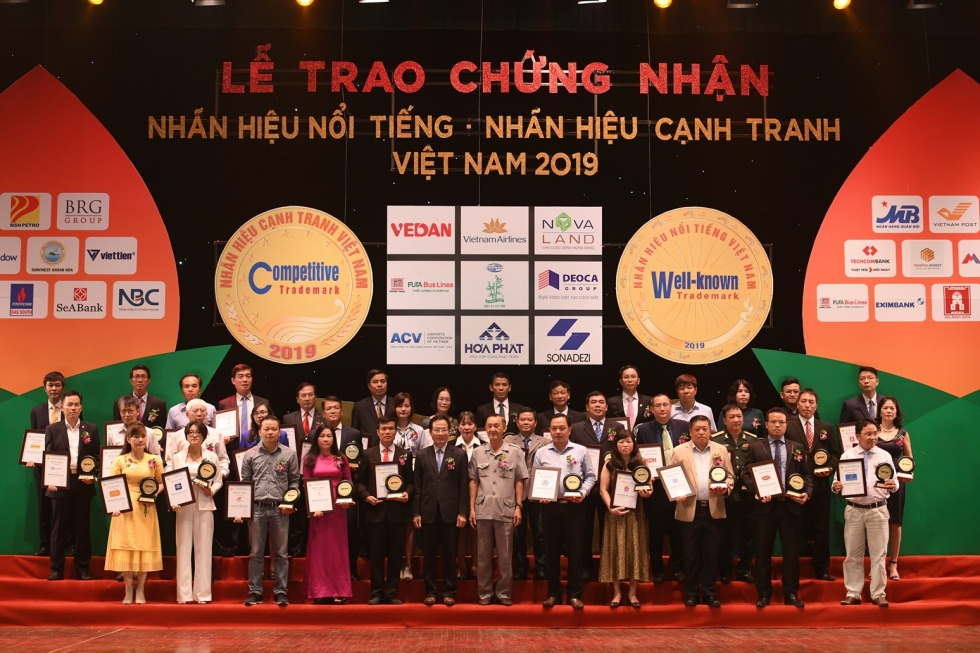 Attending the ceremony and awarding the Well-known Trademark Certificate were Mr. Nghiem Vu Khai, Vice Chairman of Vietnam Union of Science and Technology Associations, Mr. Dinh Huu Phi, General Director of National Office of Intellectual Property (NOIP), Ms. Dinh Thi My Loan, Chairman of Vietnam Retailers Association, Mr. Le Dinh Tien, former Vice Minister of Science and Technology, Mr. Le Doan Hop, President of Vietnam Digital Media Association, Mr. Vu Duc Thuan, Deputy Chairman of Vietnam Anti-Counterfeiting and Trademark Protection Association and Mr. Pham Nghiem Xuan Bac, Vice Chairman and Secretary General of Vietnam Intellectual Property Association (VIPA).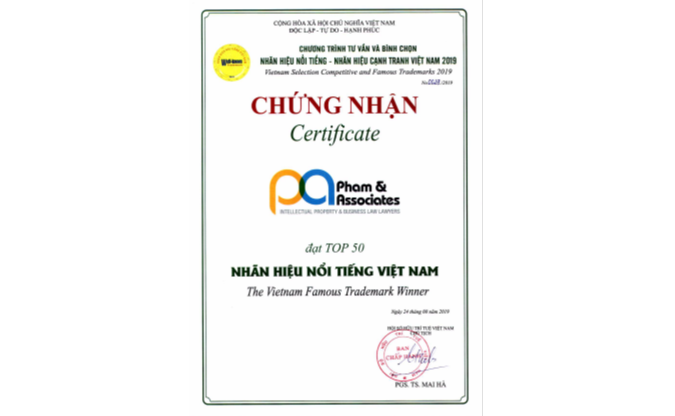 The selection and recognition of well-known trademarks is based on the "Criteria for evaluation of well-known trademarks" stipulated in Article 75 of IP Law. According to this, in order to be recognized well-known, the trademark must meet a number of criteria such as: (i) the number of the related consumers who are aware of the mark through purchase or use of the goods/ services bearing the mark or through advertising; (ii) territorial scope of circulation of the goods/services bearing the mark, (iii) turn-over of the sale or supply of the goods/services bearing the mark or the volume of the goods sold or the services supplied, (iv) the period of continuous use of the mark, (v) widespread goodwill of the goods/services bearing the mark etc. Besides, the Selecting Council also requires that the trademark owners must provide with environmentally friendly products/services, fulfill all tax obligations and actively participate in social activities.
After nearly 5 months of implementation of the Program, the Organizing Committee has received hundreds of applications for participation over the country. Among them, the Selecting Council has evaluated and recognized 14 competitive brands and 89 well-known trademarks in 2019 in Vietnam.
Trademark "Pham & Associates, Design" of Pham & Associates Law Co., Ltd. (formerly was Pham & Associates Law Office), Reg. Certificate no.4-0210968-00, registered for services: "Participating in legal proceedings, Legal advice, Industrial property representation services, Non-proceeding representatives and other legal services" has been recognized as well-known trademark and is in the list of Top 50 Vietnam Well-known trademarks in 2019. Pham & Associates Law Co., Ltd. is also the only law firm in Vietnam that has been awarded this title up to now.
In the past years the traemark "Pham & Associates, Design" was recognized as well-known trademark in the framework of the well-known trademark selecting programs organized by VIPA (2015-2018) and the Ministry of Science and Technology in collaboration with the International Trademark Association – INTA (2016-2017).