The awards named top trademarks, patents and copyright practices as determined by in-house counsel from Asia, Europe and the Americas. More than 5,000 in-house counsel were polled by Asia IP magazine throughout the first part of 2019. The event also named international award winners in each of the practice areas.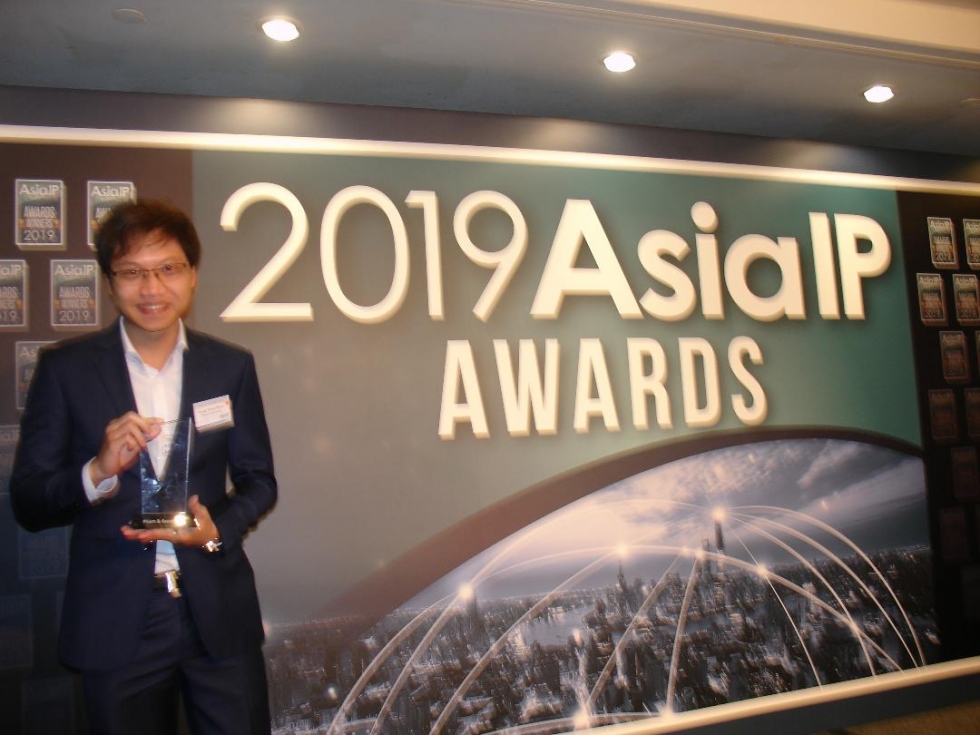 This year, the winner of the 2019 IP Awards - Patents for Vietnam is Pham & Associates.

Asia IP is a vital source of intelligence for IP-owning companies active in Asia, and international law firms which want to keep ahead of the key issues. The magazine includes a range of in-depth features, news and analysis designed to meet the information needs of in-house counsel, senior business leaders and partners at Asian and international law firms.


(Photo: Representative of Pham & Associates receiving the 2019 Asia IP Awards - Patents)





The list of prize winners in the countries is as follows:
Australia
Copyright – McCullough Robertson
Patents – Spruson & Ferguson
Trademarks – Davies Collison Cave
Cambodia
Sok Siphana & Associates
China International
Copyright – SIPS
Patents – Bird & Bird
Trademarks – Baker McKenzie
Hong Kong
Copyright – Mayer Brown
Patents – Deacons
Trademarks – Ella Cheong & Alan Chiu
India
Copyright – Singh & Singh
Patents – LexOrbis
Trademarks – Anand and Anand
Indonesia
Copyright – K&K Advocates
Patents – SKC Law
Trademarks – HHP Law Firm
Japan
Copyright – Yuasa and Hara
Patents – TMI Associates
Trademarks – Nakamura & Partners
Macau
DSL Lawyers
Malaysia
Copyright – Rahmat Lim & Partners
Patents – Shearn Delamore & Co.
Trademarks –Wong Jin Nee & Teo
Myanmar
U Myint Lwin Law Office
New Zealand
Copyright – Baldwins Intellectual Property
Patents – Catalyst Intellectual Property
Trademarks – AJ Park
Pakistan
Copyright – Vellani & Vellani
Patents – Ali & Associates
Trademarks – Sheikh Brothers
The Philippines
Copyright – Hechanova Group
Patents – SyCip Salazar Hernandez & Gatmaitan
Trademarks – Angara Abello Concepcion Regala & Cruz
Singapore
Copyright – Baker McKenzie Wong & Leow
Patents – Drew & Napier
Trademarks – Bird & Bird ATMD
South Korea
Copyright – Lee International IP & Law
Patents – Lee & Ko
Trademarks – Kim & Chang
Sri Lanka
Copyright – Sudath Perera Associates
Patents – Julius & Creasy
Trademarks – John Wilson Partners
Taiwan
Copyright – Saint Island International Patent & Law Offices
Patents – Lee and Li
Trademarks – Tsai Lee & Chen
Thailand
Copyright – Tilleke & Gibbins
Patents – Satyapon & Partners
Trademarks – Domnern Somgiat & Boonma
Vietnam
Copyright – Hogan Lovells
Patents – Pham & Associates
Trademarks – Baker McKenzie
Asia Pacific
Copyright – Hogan Lovells
Patents – Bird & Bird
Trademarks – Baker McKenzie