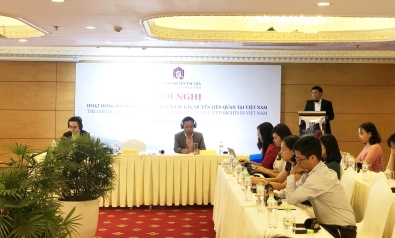 Attending the Conference, there were representatives of management agencies, enforcement agencies of copyright and related rights, Vietnam Musician Association, Vietnam Writers' Association, copyright and related rights representative organizations, international experts from International Confederation of Societies of Authors and Composers (CISAC) and International Federation of the Phonographic Industry (IFPI).

Mr. Bui Nguyen Hung, Director of the Copyright Office of Vietnam chaired the Conference and delivered the opening speech.
In Vietnam the system of collective representation of copyright and related rights has gradually formed and developed with 5 organizations, namely the Vietnam Music Copyright Protection Center (VCPMC) under the Vietnam Musician Association, established in 2002; Vietnam Recording Industry Association (RIAV), established in 2003; Center for Vietnamese Literary Copyright (VLCC) under the Vietnam Writers' Association, established in 2004; Vietnam Copy Rights Association (VIETTRO), established in 2010 and the Association for the Protection of Rights of Vietnamese Music Performers (APPA), established in 2016.
At the conference, Mr. Benjamin Ng., Director of the Asia-Pacific region/CISAC gave lessons of international experience and operational trends of the organizing collective representatives of copyright and related rights in the field of music works' copyright. In the Asia-Pacific Region, there are 28 CISAC members with developed countries such as Japan, South Korea, China, Hong Kong, Singapore, Thailand, Philippines and in Vietnam the representative organization is VCPMC. Organizations that are members of CISAC in countries always support and connect with each other. According to Benjamin Ng, in the data system of CISAC members, it is required to apply the international standard identification code, this is the identification code for each work, can be identified by sound or by work and all information of each organization is in this data system. CISAC works to improve the recognition and protection of the rights of composers and lyricists; ensuring effective enforcement of the author's moral rights and material interests; collecting and distributing royalties; ensuring activities related to the management of the rights entrusted by the authors and owners to them; and improve the quality of collective management of composers and lyricists worldwide...