Following the direction of the Drafting Committee, the Drafting Team of the Law amending and supplementing a number of articles of the Intellectual Property Law (the Law project) officially held the first session on September 1, 2020 and agreed on the proposed progress of work to be able to publish the draft Law in November 2020 for public comments.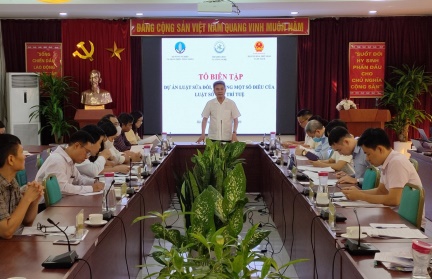 Attending the meeting were representatives of the Department of Science, Technology and Environment, Office of the National Assembly and members of the Drafting Team of the Law project who are representatives of relevant ministries and sectors, including the Government Office and the Ministries of Science and Technology (MoST), Culture, Sports and Tourism (MoCST), Agriculture and Rural Development (MARD), Finance, Health, Information and Communication, Industry and Trade, Justice, Supreme People's Court and Supreme People's Procuracy.
Photo: Mr. Dinh Huu Phi - Director of NOIP, Head of Drafting Team, chaired the meeting.
Regarding the schedule, all the members agreed on the following: to complete the draft Law project dossier to be submitted to the Government in June 2021. In order to do so, the draft law will be published on websites of the Government and relevant agencies for public comments especially from businesses/organizations that are directly affected by the amendment of the law before submitting it to the Ministry of Justice for appraisal in April 2021./.