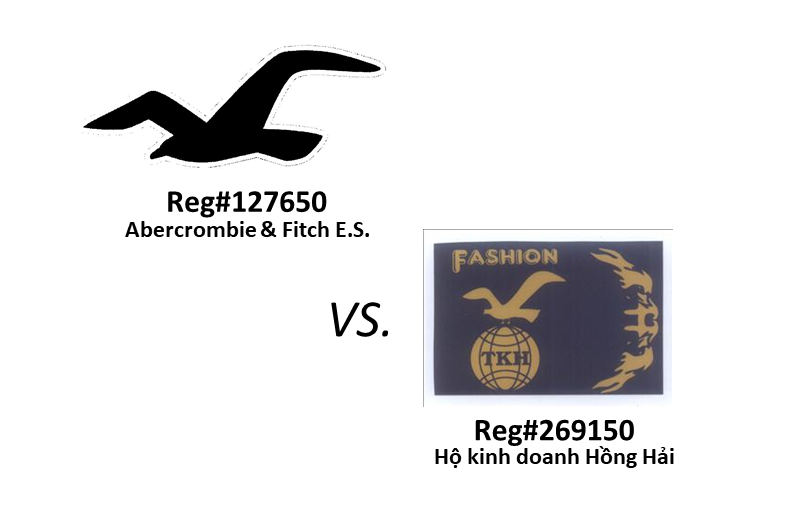 Abercrombie & Fitch Europe Sagl (Abercrombie), the applican/owner of Registration no.127650 dated June 19, 2009 of the "flying bird" trademark for goods of Class 03, 14, 15 and 25. Clothing...,filed a petition with NOIP for cancellation of Registration no.269150 dated September 27, 2016 of the "FASHION THK, design" trademark for goods of the same Class 25.Clothing..., which was granted to Hong Hai household business (Hong Hai) in Ho Chi Minh City, on the grounds that the portion of flying bird design appeared in the "FASHION THK, design" trademark is similar to the flying image of the prior trademark of Abercrombie.
The similarity between these marks registered for the same Class 25. Clothing ... is likely to cause confusion to consumers about the origin of the goods and may make consumers think these trademarks belong to the same owner, or the trademarks relate to each other. Therefore, the registration and use of the "FASHION THK, design" trademark of Hong Hai failed to meet the registrability criteria at the date of filing pursuant to Article 74.2.e of IP Law.
Holding the above argument grounded, the NOIP issued Decision no.2712/QD-SHTT on May 31, 2019 to cancel partially Registration no.269150 for the "FASHION THK, design" granted on September 27, 2016 to Hong Hai, specifically to cancel the portion of "flying bird" design appeared in the trademark. The NOIP's decision also states that Hong Hai has the right to appeal or initiate an administrative lawsuit against this decision./.